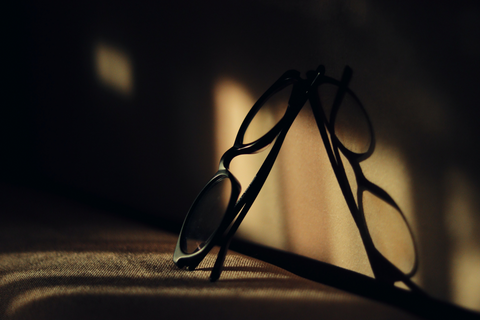 Giant capitalism
Why do a pair of glasses cost several thousand DKK when they are just made of plastic?
One giant company dominates the eyewear market. They own opticians, factories, designers and lenses. And now they are getting even bigger. But the phenomenon is bigger than glasses. We've got a new giant capitalism that goes much further than just Google, Amazon and Microsoft - and that's a problem for all of us

This is a true story about a man, who is dedicated to the original craftmanship. His name is Nicolas Musty and it all began in a dusty basement room where he saw the old cardboard boxes standing in stacks from floor to ceiling, he knew this was a moment he would remember for the rest of his life.
The day before, he had withdrawn all his money and driven nearly 1,000 kilometers from his apartment in Brussels to the Dolomites in northeastern Italy. He had met his contact at a bus stop on the main road and followed his little white car up the cold mountain roads with snow-capped peaks to all sides.
They stopped in front of a small house in a mountain village where the contact's mother lived. They greeted the old lady and followed her down the basement stairs, and there they stood. Boxes full of 6,000 original pairs of Italian spectacle frames from the late 1970s.
"It was the best day of my life," says 29-year-old Nicolas Musty as we meet for lunch in Brussels.
He is a trained optician. Like his mother and his grandmother. He is obsessed with glasses. Or rather: he is obsessed with the hunt for forgotten remnants of French and Italian spectacle frames from the 70s and 80s, which are still found in ceilings and cellars around the Italian Alps.
"Glasses that are not just cheap plastic," he says. "Glasses that are actually crafts."
Glasses are not what they used to be.
Have you ever wondered why a pair of Ray-Ban glasses can cost several thousand kroner in a eyewear store, when they are now just made of plastic at a factory in China? There is a reason for that.
In the Italian Dolomites alone, not so terribly many years ago, there were thousands of small spectacle manufacturers: hundreds of small factories that made glasses of the highest quality, and thousands of small craftsmen and peasant families who produced screws or polished glasses to earn a little extra. in the dark winter months.
Today, only two eyewear manufacturers remain. They have acquired and outperformed all other spectacle manufacturers not just in the Dolomites, but soon throughout the world. And in one company in particular, the industry totally dominates. And these are the ones Nicolas Musty thinks of when he snorts at 'cheap plastic glasses': EssilorLuxottica.
Ray-Ban, Persolo, Vogue, Oakley, Dolce & Gabbana, Prada…
They own Ray-Ban. They own Persolo, Vogue and Oakley. They produce Bulgari, Burberry, Chanel, Dolce & Gabbana, Donna Karan, Paul Smith, Ralph Lauren, Prada, Stella McCartney, Versace and Armani.
And more importantly: they own the Chinese factories that produce the glasses - both frames and lenses. And they own the stores that sell the glasses - a total of 9,100 optician stores worldwide.
It gives power. When the American eyewear company Oakley refused to be acquired by EssilorLuxottica, EssilorLuxottica simply refused to sell Oakley eyeglasses in their stores. And then Oakley was sold anyway.
It all started in the early 60s not far from the mountain roads of the Dolomites where Nicolas Musty met with his contact. Here Leonardo Del Vecchio, Italy's richest man, opened the eyewear company Luxottica, which has since grown and grown. The big step was taken in 2018, when Luxottica merged with the world's largest manufacturer of spectacle lenses, French Essilor.
And now history repeats itself. Right now, EssilorLuxottica is merging with Europe's largest optician chain, Dutch GrandVision, which has 7,000 stores in 40 countries. The deal must be approved by Margrethe Vestager's people in the European Commission, who fear that it may 'reduce competition' and 'raise prices'.
At the same time, people like Nicolas Musty point out that the quality of glasses has deteriorated dramatically in recent years. The metal is slack, the plastic breaks, the frame holds worse.
'Try to compare a screw from the 70s with a screw from 2020. The metal is worse today, it is not even tight. The quality of glasses today is infinitely much worse than in the 70s. That's why I do what I do, "says Nicolas Musty.
He bought all 6,000 pairs of glasses. And since then he has sold one of them to me.
"It was my best find ever," he says.
"I was happy. But when I sat in the car afterwards, I got sad anyway. Because it's not nice to see all the amazing crafts lying and languishing in a dark basement that way. It's a reminder that the world has changed. "
The new giant capitalism
This is not just an article about glasses. There's a bigger story.
Modern capitalism in the West is becoming more and more like the spectacle industry: it is dominated by few giant companies. Especially in the United States, but also in Europe.
As a spokesman for the European Commission wrote to me in an official reply:
'A significant amount of empirical research has shown a structural increase in market power across a range of industries and countries. The trends affect both the United States and the European Union. "
We've got a new 'giant capitalism' - and that's a problem for all of us.
Most people know that it happens in tech. They know Google, Amazon, Microsoft and Facebook. Fewer are aware that this is just one example of giant capitalism.
In 2010, the United States had ten major airlines, today there are four left, which in turn sit on 80 percent of the market. There are three car rental companies, four major banks and two telecommunications providers.
In a large number of industries, profits have been concentrated on fewer and fewer large companies. It happens in porn, beer and credit cards. Chocolate, chemical production, white goods, supermarkets, car tires, light bulbs, industrial food, entertainment and satellites.
"Market concentration is rising," said Ufuk Akcigit, a professor of economics at the University of Chicago. "And it creates a more defensive economy."
The problem is that giants tend to spend more energy defending what they have than inventing something new. They buy up patents, hire lobbyists and buy small businesses just to kill potential competition - killer acquisitions, as they say.
'Size is not in itself an issue as long as productivity does not fall. But it does, "says Ufuk Akcigit.
"We see that market leaders are not creating a more dynamic economy, but that a lack of competition is creating less dynamism and innovation."
And then giant capitalism creates another problem: inequality.
As Robert H. Frank, a professor of economics at Cornell University, says:
"Prosperity and profit are simply being put together in fewer hands."
Why does the crazy Belgian know our old factory?
One summer day almost two years ago, I was walking down Nørrebrogade in Copenhagen, when I suddenly discovered that I could not read the prices of a shawarma sign on the other side of the road. I narrowed my eyes, but the world had become blurred, like a camera out of focus.
So I went to the eye doctor, he put my chin in a machine and showed me a whole lot of letters on a red and green background: "Is it clearer with A or clear with B?" Finally he said I was myopic. I should have glasses.
60 to 70 percent of all adults in the West need glasses at some point in their lives. And not only that: right now we are in the middle of a global epidemic of myopia.
In the 1950s, between ten and 20 percent of Chinese were myopic. Today it is 90 percent. In Seoul, 95 percent of 19-year-old men are nearsighted. The same thing is happening in the West, and it is not clear why. Probably all the screens we surround ourselves with have a meaning. We train our eyes to focus on something close to us. And then we are less outdoors and therefore get less sunlight.
The WHO estimates that half of the world's population will be myopic by 2050. In 2000, it was 22 percent. So the market for glasses is global and huge.
After the ophthalmologist's verdict, I went to some eyewear stores and was annoyed that a little glass and some Chinese plastic should cost 3,000 kroner. And in the end, I ended up a bit randomly in a hip, small, white-painted eyewear store in central Brussels. A 29-year-old man in box bushes and short-sleeved shirt served me and proudly displayed a pair of square, gray-green frames. Slightly casually, he told them they were dusted in a basement in the Dolomites.
I bought the glasses (about a thousand kroner including glasses) and when I went home I could not let go of the story. So the other day I agreed to have lunch with Nicolas Musty on a bench in the sun near the shop.
Musty spends a lot of time reading Italian phone books from the 60s. He has built up an archive of 50-year-old production manuals and exhibition catalogs so he can find out which eyewear factories were located where, when they closed, and who may have bought up leftover stock.
When he finds a trail - a name of a town, a factory or a person - he drives all the way to the small mountain villages. He walks into the local bar and asks the surprised regulars if they know anyone who once worked at it and the eyewear factory that closed so and so many years ago.
"They always look at me like I'm crazy," he says, chewing his couscous salad.
"But then they get curious anyway, because why does the crazy Belgian know our old factory?"
The mountain towns are so small that there is always someone who knows someone. A friend of an uncle of an old mechanic… And when Nicolas Musty dusts off the first frames, he always makes sure to give an extra high price. That way, he starts a rumor: People call each other, "Hey, there's a weird Belgian in the area who pays a fortune for old glasses."
And suddenly one day while sitting at home in his apartment in Brussels, he then receives a WhatsApp message from a contact. "We can do business." And then it was just raising money and get going. That's how he bought my glasses.
Alexandre Van Damme's house
If one wants to understand giant capitalism, the beer industry is another good example. I found out for myself how, because opposite our apartment in Brussels is a strange house that most of all looks like a fort: A large square concrete structure that fills half of our street and which spreads across the courtyard to the next square. It's Alexandre Van Damme's house.
Van Damme has become one of Belgium's richest men selling beer (and I'm pretty sure he's not related to Jean-Claude Van Damme, who is also from Brussels). He is co-owner of the brewing giant Anheuser-Busch InBev. What is Anheuser-Busch InBev, you ask? Jo…
Anheuser-Busch InBev is a merger of Belgian InBev and American Anheuser-Busch. Or that is to say… Even before the merger, InBev was a merger of Belgian Interbrew (which makes Stella Artois) and Brazilian AmBev, which merged in 2004.
But four years before, AmBev had emerged as a merger of two old Brazilian breweries, Brahma and Antarctica, which before that had acquired some Argentine and Dominican beer companies.
Belgian Interbrew also owned some Canadian brands.
Well, but Anheuser-Busch (who makes Budweiser) had bought a Chinese brewery and the Mexican Grupo Modelo (who makes Corona).
And in 2015, Anheuser-Busch InBev bought British SAB Miller, which already owned some Colombian, Australian and South African brands.
What I want to conclude is that when we stand down in the supermarket and buy beer, we do not think that Corona, Budweiser, Stella Artois, Foster's, Hoegaarden, Leffe, Beck's and Modelo are all made by the same company .
Globally, there are now five all-dominating beer giants - Carlsberg is one of them. One could tell similar story about the food industry (Nestlé, Coca-Cola, Unilever) or about the entertainment industry (Disney, AT & T-Time Warner).
AOC, Vestager and new European Champions
In the United States, the left-wing Democrats want to do something about it.
Congresswoman Alexandria Ocasio-Cortez recently proposed a ban on mergers of companies during the corona crisis so that large companies can not buy up all of their small competitors when the crisis hits.
And Elizabeth Warren has long advocated for the United States to re-apply the antimonopoly rules it already has. Most of the rules were made - and used - in the early 1900s to break up large industrial monopolies such as J.P. Morgan, Standard Oil and Andrew Carnegie's steel company. But since 1970, they have only been used quite a bit - the market had to regulate itself.
In Europe, the approach in recent years has been different. The whole reason why Margrethe Vestager has become a well-known figure in Brussels is precisely that she has 'revived' the European monopoly laws, as the Financial Times has put it.
As EU Competition Commissioner, she has banned mergers that could harm competition. Most recently, to the great regret of Emannuel Macron, she blocked the merger between the train departments of German Siemens and French Alstom.
She has also issued fines to companies that exploit their dominant market position - most famously to Google, Apple and Microsoft.
But perhaps political thinking in the EU is changing. When Macron and Angela Merkel issued a joint recovery plan for the EU in April - the one with so many loans that has been written about so much - they also talked about creating more 'European Champions'. That is, large, European companies that can compete against the Chinese and Americans in a global market. This requires that competition rules be less stringent. It requires Siemens and Alstom to merge.
Fucked by the eyewear industry
Nicolas Musty takes my glasses in his hand and rubs the spectacle arm between his thumb and middle finger to warm it up. Then he bends the rod back and forth as if it were candy mass.
"See. This material is 45 years old and I can still shape and reshape it. Try doing it with a pair of Ray-Ban. The old manufacturers had no marketing department. The technicians were designers and vice versa. They produced the same models for 30 years. They only made glasses. So all costs went to materials. "
The frame is not made of plastic. It is acetate, a mixture of wood, cotton, polyester and acetic acid. Way back, glasses were made of turtle shield or horn, but it was too expensive in the long run. So you tried celluloid - the fabric that old film rolls are made of. But it was too dangerous. There were explosions and fires in the factories. And then one invented acetate. Today, most glasses are made of plastic. It's cheap, but it also holds up worse.
- What do you really think of EssilorLuxottica?
"It is as it is. People demand that kind of thing, "says Nicolas Musty.
"I do not want to sound like someone who only yesterday discovered what capitalism is all about. I understand. It is the post-war form of production. They do what you learn in business schools: reduce costs, integrate value chains, scale up. "
But maybe something is happening right now. In the last few years, two new eyewear stores have opened in Brussels, each with its own concept: one sells plastic eyewear, as cheaply as possible. So cheap that at one point they had a big dildo machine standing in the window with a text saying we'll all be 'fucked by the eyewear industry'. It created a lot of furore. The other is a store chain that sets out to sell new glasses of a reasonable quality for around a thousand DKK all inclusive.
'I know very well that my model cannot be repeated by everyone. It can not save the world, "says Nicolas Musty as we walk back to his shop.
'I do not agree that glasses should be made of plastic and cost 50 DKK. It is not sustainable. But I also know that not everyone can afford to pay 4000+ DKK. But I know that all the billions that people spend should not go down in one pocket. They should also go to the subcontractors, the small producers, the dealers and the employees in the shops. 
ANDERS RYE SKJOLDJENSEN
UDLAND
11. juli 2020